Students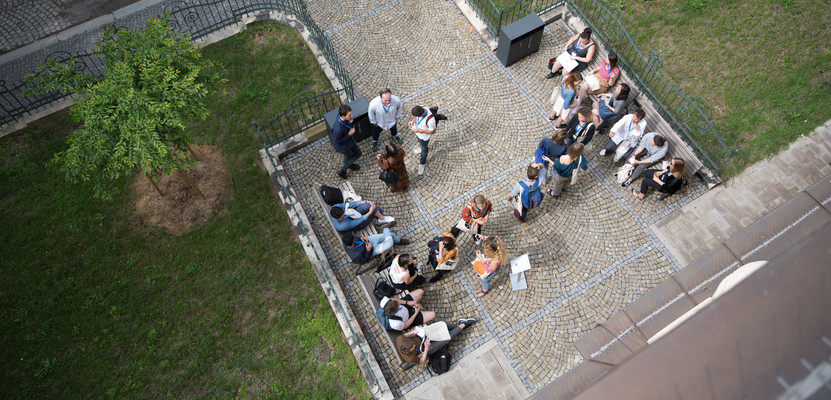 Orientation day for the autumn semester:
13th September 2022
Beginning of the autumn semester:
16th September 2022
End of the autumn semester:
16th December 20212
Christmas break:
17th December 2022 – 1st January 2023
Examination period of the autumn semester:
2rd January – 10th February 2023
Orientation day for the spring semester:
Friday 10th February 2023
Beginning of the spring semester:
13th February 2023
End of the spring semester:
12th May 2023
Examination period of the spring semester:

15th May – 30th June 2023
Due to the multi- and interdisciplinary nature of the Euroculture programme, its graduates find work in a broad variety of sectors where expert knowledge of present Europe and European integration processes is required. A number of our graduates have also undertaken further studies on doctoral level.
The programme emphasises the study of modern European culture and society in the context of European integration, and its students gain unique insight into European identity building processes. This knowledge and understanding is a particularly important asset to have in the current, complex new era of globalisation and at a time of Europe's movement towards closer social, political and economic integration.
Our students develop the skills to facilitate collaboration in trans-national, multi-disciplinary networks. Graduates of the programme are highly qualified to perform in European-wide and EU related civil services, policy making positions, cultural management, journalism, international business.
Euroculture alumni have found employment in the following areas/organisations:
EU institutions
International and national organisations (non-governmental, non-profit, foundations)
Education and research institutions
Embassies and ministries all over the world
Media, journalism, publishing, libraries
Cultural (management) organisations
Foreign trade organisations
Political parties, foundations and associations
City and regional planning, local and regional cultural projects
Centres for minorities and minority rights
Important part of the Euroculture studies and Master studies in general is writing Master thesis. This takes place over the whole 2nd semester of Euroculture studies. Students conduct their own research on a topic they choose and discuss with two supervisors - one for each of their 1st and 2nd university. It must follow general outlines for Master thesis.
When writing the MA thesis, student should conduct independent research and come up with some new information and outcomes. Thesis should not be a compolation of existing facts and information!
Current version of the Guidelines on the writing of the MA thesis for the whole Euroculture consortium can be found at the end of this section.
Important dates and deadlines
Process of working on Master thesis has several important dates and deadlines:
September 15th: Preliminary thesis topic
December 1st: Thesis portfolio
January 31st: Thesis portfolio rewrite (if applicable)
June 1st and August 1st: Thesis sumbission deadlines
Preliminary thesis topic should provide a good indication of the topic student wants to work on for the thesis, preliminary research question and explanation of the relevance of the research project.
This document must be send to both 1st and 2nd university. They must approve the topic and then assign student with two supervisors, one for each university. In Olomouc supervisor is appointed to students, they do not need to look for her/him themselves.
Deadline for submitting Preliminary thesis topic is September 15th.
Thesis portfolio is elabration of the thesis research proposal. It must be send to both supervisors and Euroculture coordinator on both student´s unviersities.
Both thesis supervisors must approve thesis portfolio to receive a "pass", so the students can proceed with working on the thesis as such. Thesis portfolio can receive "rewrite", which means student needs to rewrite the thesis portfolio according to the supervisor´s comments. In such case the rewritten thesis portfolio must be submitted to both supervisors again. Rewritten thesis portfolio MUST be approved by February 15th!
Important note: Studen is responsible to communicating all the necessary information and deadlines, to send supervisor´s e-mail addresses to each other and to keep an eye on the deadlines.
MA thesis shuld be written in proper, academic English, using only one variant of the language (US, UK, Canadian...). Thesis should be long between 20.000 and 30.000 words, including footnotes and excluding bibliography and annexes (if applicable).
The formal requirements for the thesis are as follows:
Printing: single-side
Line-spacing: 1,5 lines for the body text, single line (1) for the footnotes, single line (1) for long quotes, which are to be indented.
Page 10
Letter size: point 12 for the body text, point 10 for the footnotes
Letter type: Times New Roman
Margins: 2,5 cm at top and bottom; 3 cm for left and right margin
Page numbering: lower right-hand side of each page.
Chapters should each start on a new page.
Italics: only for foreign words, book/journal titles, emphasis. No quotations in italics!
Boldface: Only for thesis title, and chapter headings.
MA thesis must be submitted in .pdf form to both Euroculture Olomouc Coordinator and Mrs. Gyuránová from Study Office. Thesis document must be accompanied by Complete data about Master Thesis form - this form is generated after student fills in additional information in STAG.

Euroculture Olomouc has its own library with books related to Euroculture fields of interest. Students can find books Europe and European culture, society and politics in general, about Islam and Muslim world and culture, visual culture, imperialism, nationalism, memory studies and more. We also have a lot of books about Czech and Czechoslovak history.
List of the books in our Euroculture library can be found below.
After their graduation, Euroculture alumni find jobs in various fields like research, journalism, diplomacy, administration (national and European), various management positions and many more. Students are often offered a job position at the institutions where they did their internship during the Euroculture studies.
You can find out more about Euroculture alumni in general, including some stories, statistics, job prospects and more at the official Euroculture consortium website: https://www.euroculturemaster.eu/career-prospects
Below you can find some of the many Euroculture Olomouc alumni stories
Nina Tousch (cohort 2017-2019)
The semesters I spent in Olomouc changed my vision of Europe, and I bet it will change yours too. I learned about the history of the Czech Republic and Central Europe and got familiar with its culture and its language. When I started Euroculture, I didn't expect to go to Olomouc for my second semester. Eventually, it was the best time of my degree. The university and its library are great and I enjoyed finishing my MA's thesis there. It is the perfect city to study... but if you want to party, you'll quickly see that the city has many concert venues and bars ! It also has a vibrant cultural scene and you will discover incredible and eclectic festivals, from music to cinema. Olomouc is also at the crossroad of Europe. From there, you can take a bus or a train and discover the heart of Europe.
Olomouc changed me too as a person. I know that I will forever be linked to that country. I volunteered for Charitas, a charity based near the University building, tried every local beer, read everything I could about Vaclav Havel, an unknown European hero in Western Europe, former president of the CZ, and screenwriter. Usually, when we study European Studies, we tend to forget Central Europe to focus solely on Western Europe. But it's high time we changed our perspective: shake your habits and experience the Czech way of life !
After two years of Euroculture, I felt the need to settle down in my home country, France. I started to work as project and communication manager for a classical music venue in Paris, but meanwhile, I developed my own media on diabetes named Diabetopole, a condition that I have had since 2012. Today, I am the chief editor of this media. I didn't do Euroculture to have a specific job. I did it because I needed to build myself and learn. And thus, I learned to open my mind to different cultures and embrace the change. Although my media is in French, I bring European news on diabetes to my audience. Furthermore, in the future, I aim at having an impact at an institutional level and at making diabetes a European health priority.
By the way, if you have diabetes and are going to the CZ, I never had any trouble there. I brought my medicine from home (half of a suitcase though) and kept my diabetes waste in an empty water bottle because I could not find a safe place where to through it. And don't forget to ask for your free European Health Insurance Card. It gives you access to medical services in EU member states during a temporary stay.
Agnese Olmati (cohort 2017-2019)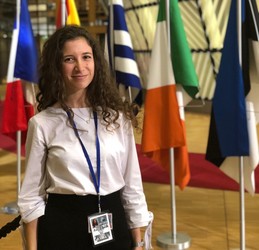 A few years after graduation, I can say that Euroculture completely changed my life and helped me become who I want to be.
Being passionate about languages, cultures, and travelling, I have fully enjoyed the opportunity to live, study, and work in three different countries during the programme. The master was an incredible international, multicultural experience that provided me with so many stimuli and challenges and that was key to broaden my horizons – and, most importantly, it gifted me with special friends for life.
Some of the best memories of my MA are from Olomouc, a city where I spent two semesters and that I sometimes miss. For me, living in Olomouc was a unique opportunity, as I could learn about the Czech Republic, its culture and more generally the history and politics of Central Europe, which were almost unknown to me beforehand and which I found fascinating.
After graduation, I came back to Brussels where I had already completed a traineeship at the Council of the European Union during the third semester of the master. I have now spent most of my career working as a communications specialist in the EU institutions, first in the field of environmental and climate policies and then in cyber diplomacy.
Annelot Saenger (cohort 2018-2020)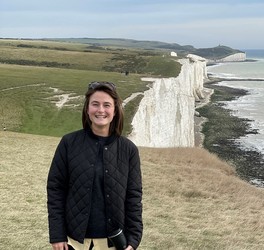 After having spent the most amazing 6 months in Uppsala, Sweden I was rather hesitant to move to Olomouc. Arriving in Olomouc, Neředín krematorium might not give you the most welcoming feeling but the stunning beauty of Olomouc does. Strolling through the beautiful small streets surrounding the Holy Trinity Column and the Olomouc astronomical clock simply takes your breath away. You will never get bored by the view and you will be more than willing to make some extra miles in order to see it again. Apart from its impressive architecture, the gastronomic culture of Olomouc is outstanding. I drank the best beers; I ate the best Czech food and I discovered the most outstanding cafes. Another great thing is how close Prague, Bratislava, Warsaw, Krakow and Budapest are. These cities and neighbouring countries are easily reachable by either bus, car or train and will provide you the best long weekend trip. This is as every weekend at Palacký is a long one. The most amazing staff provides you with plenty of time off so you are able to travel around with your classmates. Classmates from all over the world that, even though I am working in Amsterdam, I still speak to on a weekly basis. When during IP my entire cohort came to Olomouc, they were jealous on how lovely this city was and how much it had to offer. Quite some of them told me that they made a wrong choice by going to a more "conventional" place because that was what they knew. Therefore, please go to Olomouc, it will offer you the best of times and it will broaden your Euroculture horizon even further.
Děkuji vám!
Did you know that Euroculture has its own magazine called The Euroculturer? It is run by current Euroculture students, stories are written by Euroculture students and alumni and cover various kinds of topics related to the culture, society and politics. Magazine has the official support of Euroculture consortium.